ASCON was founded in 1989 as a private company, becoming one of the first CAD/AEC/PLM developers and integrators in Russian and CIS member countries. Our software solutions address key engineering design issues, such a accurate 3D modeling, preparation and release of drawings and design documentation, business process development, and engineering data management.
Today, ASCON is a dynamic company employing 800 highly qualified specialists. The company operates 60 offices and dealer centers in major industrial regions worldwide. Each branch office provides a full range of services in software implementation, IT consulting, personnel training, software integration and support.
The number of KOMPAS installations exceeds 80 000 seats in automotive, heavy machinery, aerospace and defense, agriculture, oil production and power generation, manufacturing and construction, electronics and engineering industries.

32
years in the CAD market

800
employees in our team

> 320
from them are highly qualified researchers and developers

36
offices in Russia and in CIS countries

> 50
partners in Russia and abroad

> 13 000
customers all over the world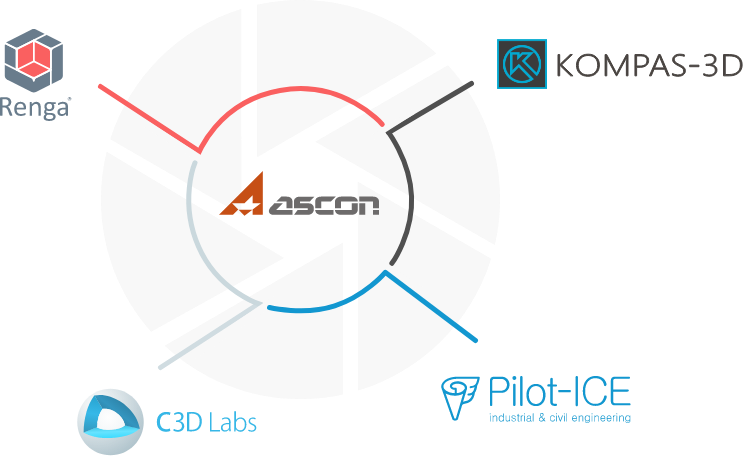 Solutions offered by the ASCON address key issues of engineering, building and structures design, business process development and engineering data management.
KOMPAS family of CAD solutions provides a classic framework for three-dimensional parametric design. The main system components are hybrid 3D modeler and a graphic drafting editor. KOMPAS −3D is based on the geometric core C3D (created by C3D Labs, a subsidiary of ASCON).
Renga Software is a family of products to design buildings and structures by using Building Information Modeling (BIM).
Pilot family of corporate management systems for a project organization and information, data storage, management, analysis and automating business processes.
C3D Labs is a team of experienced managers, programmers and graduate-level specialists in the field of computer-aided design (CAD) . They are successful in applying their knowledge to practice, such as using numerical methods in solving mathematical problems and implementing the APIs included in C3D Toolkit.