14.02.2017
Renga Family Grows with Addition of Structural Concrete Design
St. Petersburg, Russia: February 2, 2017 — Renga Software is pleased to announce the release of its new system for designing structural steel in buildings and facilities. Renga Structure is aimed at designers and engineers who work on residential, public, and industrial buildings. Taking into account the popularity of concrete in construction, this first Renga Structure release concentrates on attention reinforced concrete structure design, complete with automatic and manual placing of rebar (steel reinforcing rods).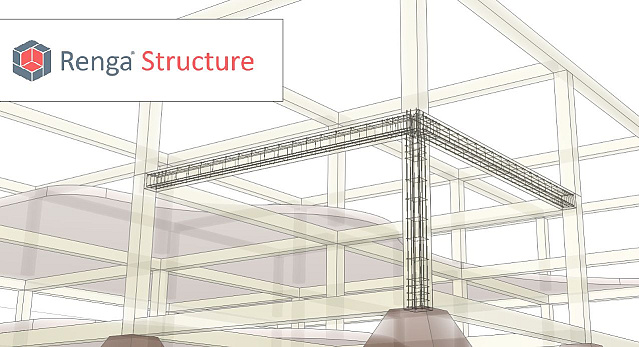 Structural design has rules for how reinforcing elements are added to concrete elements based on their location, such as in basements, walls, columns, beams, or ceilings, and Renga Structure contains these rules. Engineers select the structure requiring reinforcement, and s Renga Structure uggests the appropriate reinforcement layout rule for it.
The Reinforcement Styles tool lets engineers adjust the reinforcement options within rules, establish them as a new style, and then assign it to any structure. Any number of styles can be created and then applied. Engineers can use Frame mode to see in 3D how the reinforcements are being placed.
Renga Structure is flexible. It works as an extension to the BIM-oriented Renga Architecture software, and it works also independently on its own. Renga Structure lets engineers design the structural aspects of buildings, and gives them access to architectural elements, such as walls, beams, columns, and ceilings.
This first release is only the beginning. Renga Software is already developing more functions, such as for working with structural steel, precast concrete, and round-tripping of data with analysis systems.
Coming from Renga Architecture, the development team continues its work to develop software that is easy and convenient, thanks to its context-oriented interface that lets designers work in 3D.
Follow us on our news channels!
---